Graduation
What is the difference between graduation and Commencement?
Simply put, Commencement is a ceremony held once a year that honors students who have recently graduated, or will soon graduate. Graduation means completing all requirements of their degree program and having their degree conferred.
Participating in Commencement does not automatically mean that a student has graduated.
Students can graduate at the end of any semester: degrees are conferred in December for the Fall semester, May for the Spring semester, and August for the Summer semester. The Commencement Ceremony is held once annually in May.
For more information about Commencement, please visit the Commencement website.
---
Jump to:
---
General Information
All students must apply for completion whether or not they opt to attend the Commencement ceremony.
The Application for Completion may be submitted up to one year prior to the actual term of graduation.
Applications must be received on or before the February 1st deadline for inclusion in the Commencement Program.
Tickets for Commencement are issued only to those students who apply on or before the February 1st deadline. The number of tickets issued is dependent on the size of the graduating class.

Graduate students (including Doctoral Students) attend the Friday night Graduate School Commencement ceremony and NO tickets are required.

When providing a diploma/certificate mailing address, keep in mind that diplomas/certificates are mailed out approximately two months after the date of graduation.
Any student who will graduate during the current year may attend the Commencement ceremony. Students graduating in August or December should be sure to apply for the correct graduation term AND indicate "Yes I will attend Commencement" on the Application for Completion.
More detailed information regarding Commencement is available on the Commencement website.
Certificate students:
Students completing certificate programs must apply for completion but will not participate in the Commencement ceremony or be included in the Commencement program.
Undergraduate students:
Each student is responsible for knowing and following the policies governing his or her course of student and for fulfilling all academic requirements for the degree sought. Refer to the Undergraduate Catalog for Degree/Graduation requirements.
Students should direct questions about academic policies and degree requirements to their academic advisor or to their academic dean or program coordinator.
Each college is responsible for verifying that students have completed their degree requirements. This process occurs within 60 days of the end of the term.
Graduate students:
---
Application for Graduation Deadlines
Graduation is not automatic upon completion of all program requirements. Students must submit an Application for Graduation to be reviewed for graduation eligibility and have their respective degrees conferred.
Applications must be submitted according to the following schedule, no later than the Application Deadline for the relevant term. Deadline dates will be extended to the next available business day in the event they fall on a weekend or holiday.
Fall Semester:
First Day to Apply: January 2nd
Application Deadline: October 1st
Spring Semester, including Winter Term:
First Day to Apply: May 15th
Application Deadline: February 1st
Summer Semester, including May Term:
First Day to Apply: September 1st
Application Deadline: July 15th
---
Application Process
Students apply for completion/graduation using the Classic Student Center in MaineStreet.
From Classic Student Center, locate the "other academic…" drop down menu on the left side. Select Apply for Graduation/Completion.
The application is populated with current college, major, minor(s), and concentration information. The student's dean's office should be contacted to make any required changes. Select the Program name link to initiate the application.

Dual degrees: Any student who may be earning a dual degree will need to submit the application for BOTH programs. After selecting the first program, use the Select Additional Program button to add the second degree.

Complete the application details and select Submit. Upon successful submission, a confirmation email will be sent.

Be sure that the mailing address will be valid when diplomas/certificates are mailed, up to two months after graduation.
Opting to be included in printed materials means inclusion in the Commencement program and the scoreboard name display. Individuals who have previously requested suppression of Directory Information via a "FERPA hold" will be notified to submit a release for inclusion.
Questions regarding graduation or the application process can be sent to um.gradapply@maine.edu
---
Viewing/Changing the Application
Submitted applications may be reviewed and changed at any time by returning to the Apply for Graduation screen and selecting the View Application link.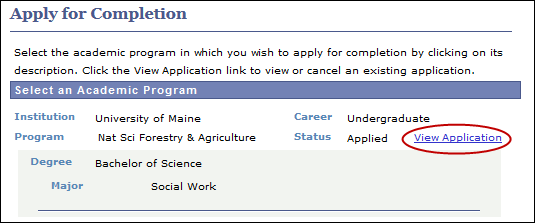 Note: Multiple applications will be listed here if an application has been previously submitted. Only the most recent application will permit changes.
To change the Expected Graduation Term, use the Look Up icon to search for the new term and then select the Change Term button.
---
Withdraw/Cancel Application
Submitted applications may be withdrawn or canceled at any time by returning to the Apply for Graduation screen and selecting the View Application link.
While viewing the application, there is a Cancel Application button at the bottom of the page.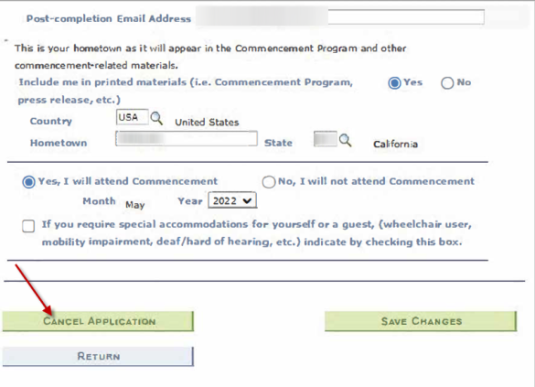 ---
Diplomas
Diploma Characteristics
All University of Maine diplomas measure 8.5″ x 11″.
The following items are printed on each diploma:
Student's diploma name recorded in MaineStreet, or the preferred name on record if no diploma name has been provided
Degree earned and all associated major fields of study

Dual degree students will receive separate diplomas for each degree.

The following earned distinctions: Latin Honors, Valedictorian or Salutatorian, and Honors College distinction of High/Higher/Highest Honors
The following items are not printed on diplomas, but will be listed on the student's official transcript:
Minors and concentrations
Certifications (e.g. CAEP, NASM, NASAD, ACS, etc.)
Honors other than those listed above.
Mailing
Diplomas are mailed out approximately two months after the date of graduation, to the diploma mailing address recorded in MaineStreet as part of the application process.
Due to the size of the mailers, diplomas are often treated as parcels instead of letters, and thus may be held at the main desk or office of U.S. Post Office locations, apartment complexes, or condos.
For information regarding the issuance of diplomas to students indebted to the University (including replacement diplomas), please see UMS Administrative Practice Letter IX-K.
**For diplomas issued at the University of Maine ONLY**
Students may request a replacement diploma by submitting the Replacement Diploma Request Form.
Each request requires a payment of $30. Payments can be made using our secure TouchNet payment portal.
Requests are typically processed within 15 days.
A replacement diploma may be issued for a deceased student with valid documentation of the student's death (obituary, death certificate, or executor of will).