Graduation
All students must apply to graduate whether or not they opt to attend the Commencement ceremony.
The Application for Graduation may be submitted up to one year prior to the actual term of graduation.
Applications must be received on or before the March 15 deadline for inclusion in the Commencement Program.
Tickets for Commencement are issued only to those students who apply on or before the March 15 deadline. Typically, there is limit of 5 tickets per student; however, the number may range from 3-6 depending on the number of students graduating.
The diploma is mailed approximately two months after the date of graduation.

Undergraduate students:  Each student is responsible for knowing and following the policies governing his or her course of study and for fulfilling all academic requirements for the degree sought.  Students should direct questions about academic policies and degree requirements to their academic advisor or to their academic dean or program coordinator.  Refer to the Undergraduate Catalog for Degree/Graduation requirements.  Each college is responsible for verifying that students have completed their degree requirements.  This process occurs within 60 days of the end of the term.
Graduate students:  Refer to the Graduate School website for details on the graduation process for all graduate students.
There are three graduations per year with one May commencement ceremony. The deadlines for applying for these graduation dates are as follows:
| | |
| --- | --- |
| Graduation | Deadline |
| May | March 24th |
| August* | July 15th |
| December | November 15th |
* Note:  Students taking May Term/Summer University courses to complete degree requirements will be potential August graduates.
Students apply to graduate using MaineStreet.
Application Process
Students apply to graduate using MaineStreet.
 1.  In MaineStreet, navigate to the Student Center: Student Self-Service > Student Center. From the "other academic…" drop down list, select Apply for Graduation.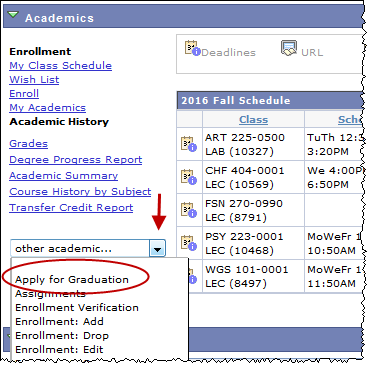 2.  The application is populated with current college, major and concentration information. The student's dean's office should be contacted to make any required changes.  Select the Program name link to initiate  the application.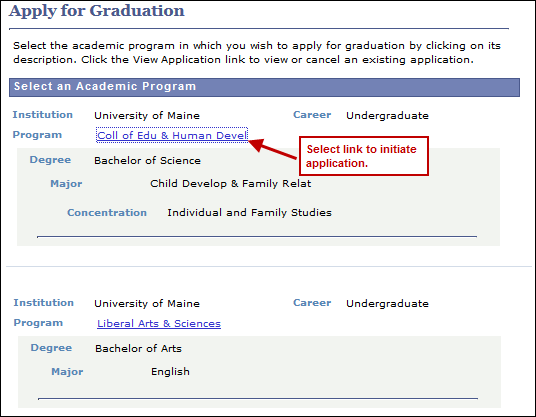 3. A student who may be earning a double degree will need to submit the application for both programs. After selecting the first program, use the Select Additional Program button for the double degree application.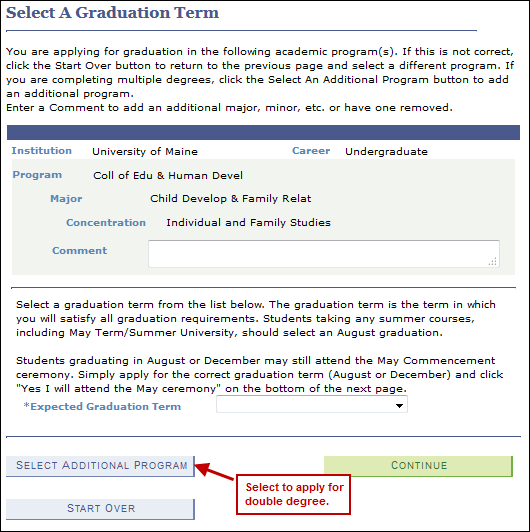 4.  Complete the application details as shown below and select Submit. Upon successful submission, a confirmation email will be sent.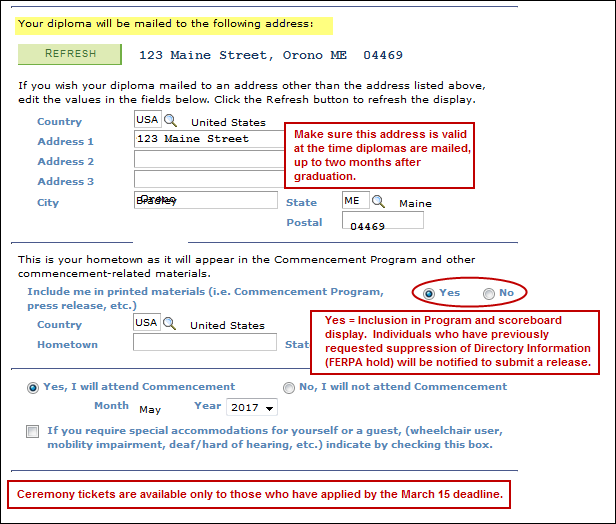 Questions regarding graduation or the application process can be sent to:gradapply@umit.maine.edu
Viewing/Changing the Application
Submitted applications may be reviewed and changed at any time by returning to Apply for Graduation and selecting the View Application link.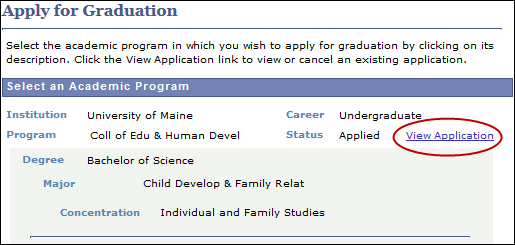 Note:  Multiple applications will be listed if an application has been previously submitted.  Only the most recent one will permit changes.

To change the Expected Graduation Term, use the Look Up icon to search for the new term and select the Change Term button.

Diploma Replacement

Students may request a replacement diploma by submitting the Replacement Diploma Request Form.Each request requires a payment of $30 (checks payable to the University of Maine). A replacement diploma may be issued for a deceased student with valid documentation of the student's death (a copy of the obituary, death certificate, or executor of will.) Requests are typically processed within 7 days.
Helpful Application Hints
Diploma to be mailed to address:  Keep in mind that your diploma will be mailed to you approximately two months after the graduation date.
You may apply for graduation up to a year prior to graduation term, you do not need to wait until the actual term you will graduate in.
If you do not apply to graduate and wish to walk at commencement you may, however if you fail to apply prior to the March deadline you will not receive tickets to the ceremony and will be unable to invite guests to watch you walk.
If you wish your name to appear in the commencement program regardless of which term you are applying you must apply prior to the March deadline.
Direct questions regarding replacement diplomas to Office of Student Records.